The Offline
The Official Website for the Drama Room Offline
March 15th – 19th 2019 in Las Vegas, Nevada!!!!
 Last Updated on 1/21/2019 at 8:08 PM CST
1. The Official First Annual Drama Offline Classic Commercial!
Welcome brack peepoes, saltines, eskimoes, humpbacks slewfeeted folks and test tube babies!
This is the site!
You like it?
Fuckin awesome.
---
Ok update…. this shit is going to happen for real!!!
Also… we need somebody to babysit for Ree Ree… for free so she can come!
Stalker advisory: 
ReD-DOT_disDYCK_nYO_MOUTH will be standing in the middle of the dance floor dressed like Morpheus from The Matrix trying to make eye contact with all of the fellas.
---
PAYING FOR THE OFFLINE?
COST:  We don't know yet.
Gofundme.com is available for those who are financially challenged.
Your lucky numbers are: 4, 23, 26, 34 and 57
---
TRAVELING TO THE OFFLINE?
Lodging:
New Orleans – Sheraton for those looking to book a room.
AirBNB for those who can't afford a hotel room.
…and DVGreen knows a lady who runs some apartments named Thick Ass Carmel.
---
WHERE IS THE OFFLINE?
Voting is over!  The offline is officially set for LAS VEGAS, NEVADA!
Houston
New Orleans
Las Vegas
Barbados
Lagos or Port Harcourt
Key Largo
The Galápagos Islands
Cincinnati
San Antonio
Paris
Vancouver and
Atlanta
Some main events will be in Imma's satanic baller room to save money on beer and to watch the fights.
Free flowers to the first 5 ladies that show up!
---
EVENTS?
Live Performances
Intel will have his legs on full display for all to gander at.
~
Gada will be fighting Nigg and Di at the Mandalay Bay.
~
sweet-walter will host a barbershop seminar featuring tips on how to perfectly trim a mustache.
~
DJSchMoke and Crissy will perform the smash Paltalk hit: "When We Meet"…. or maybe not.
~
Rod Stud, iKillabrew and DJ SchMoke will hold a Juiceman seminar for prospects.
~
Westside is scheduled to appear out of the shadows to get his ass beat.
~
DJSchMoke and Crissy will perform the smash Paltalk hit: "When We Meet"…. or maybe not.
~
A Female Strip Off
First prize: A pack of weave and blue contacts provided by PrinceOfChosenThought
~
The "Keep Your Man" Seminar (hosted bythat1realchick)
Ladies learn how you keep your man the right way!
~
The Anal Sex Seminar (hosted MzGladis)
Ladies learn how to get that ass ready for your man.
~
Sanctioned Fights
So far, the main event is ambitious_king and jigga vs dangerous_one2013 and Yahoo while dangerousone fights with Yahoo
~
11:00 AM – dangerous_one2013 vs Kilaboy and Yahoo
~
SSR1908 vs a bar of soap
~
Skully vs. The Preacher
~
Rollo vs ambitious_king and that dark spirit that reached through rollo's car windows and punched him and that lady who tried to kill him by running into the back of his Uber car.
~
12:00 PM – POCT vs crissylicious and her kids
~
1:00 PM – POCT vs Kreamidiva
~
2:00 PM – POCT vs Smootie
~
3:00 PM – POCT vs yahoo live from Niggs house
~
4:00 PM – POCT vs Travlinman and his Mason Brothers
~
5:00 PM – POCT vs DJSkully and his wife
~
2pac, earth goddess, bomblove and msLouie vs crissylicious
~
DJ SchMoke vs Gullah_Jack and a school of fish
~
DJSchMoke vs Frankie_Cutlass and 2 goats walking around in heels on two feet
~
Fulla vs that chick who pissed in his bed
~
Dingo vs the female who spermed in his eye
~
Jigga vs DJSchMoke
~
Smootie vs GotNoMusic
~
crissy vs Lostintears
~
DJ Battle
Digital Keys vs Skully vs Ike vs GotMusic
~
Chatter Dance Off
Rollo vs everybody else
~
Chatter Sing Off
Smootie vs KC vs Curve vs ChocolateMixx vs. soul_brotha
~
The All White Affair (Dingy is also acceptable)
~
The Real Life Cam Off
---
Assignments
So far DJSchMoke has been assigned webmaster / secretary / security / host duties….
Ms Cucumber is bringing paper plates and forks.
DJ Skully is the DJ…
Blazin_exotic is hosting the morning exercise classes (with free yoga pants, but they are only available to those who don't look fucked up in them)…. and Crown Royal for DVGreen …and mascara for MsNina
ITASTELIKECHAMPAGNE is responsible for bringing … the champagne, fried chitterlings, meatballs… and potato salad
Gullah_Jack is bringing the fish.  Plenty Of Fish…. and millions of tomatoes so we can throw them at each other.
DVGREEN – "I am not bringing a got damn thing." (Ny suggested he bring the condoms) except missing persons reports and ink pens.
gameface38 is bringing a tv and a ps4 (bring your own controller)
GotMusicNoAttentRequired is bringing Jack Daniels and anger
MsFunSize is bringing the weed.
Frank is not invited.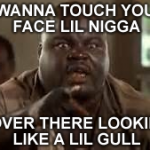 Nutty is bringing the sanitary napkins.
DoughBoy is bringing canned goods and snacks.  He is also going so he can show off his weight loss and his no collar shirts.
crissylicious is bringing the vanilla cream.
Naya is bringing the Anal Ease and the pussy Dixie cups.
PrinceOfChosenThought is bringing some lesbians for extra security, coffee and escape routes.
CUZZ_1 will be giving the women massages and putting them to sleep.
Ree Ree is bringing mac and cheese…. and a tub of coconut oil.
MsNina is bringing veggie plates (as if anybody is going to eat that shit)
PhillEBlunts is bringing the blunt wrappers.
Lifes_journey is bringing greens and a carmel cake.
Jace_J is bringing Cappadocia.
Digital Keys is bringing puppies, cute little deers, lollipops and little bunnies.
that1realchick is bringing faggots and butt-plugs…. and "tampons for the bloody bitches that don't plug their pussies up".
QT and Calla are bringing assorted accessories from Krogers such as: Napkins, Ice, Dieter's Tea, Coconut milk, Boxing Gloves, A family sized box of Raisin Bran, Combination locks, Spare keys (in case Calla locks his in the trunk again), QTips, and Milk of Magnesium
Fulla_Schit is bringing the BBQ and the waterproof bed covers.
KC is bringing lettuce wrapped barbecue tofu chicken and fresh corn grown in her front yard…. and to rape POCT.
Rod is bringing cigars and gifts for the white women.
Smootie is bringing the kitty litter.
Phatpussc is bringing 4 cameras to place on the ceilings in all the rooms.
Chocolatemixxx is bringing Popeyes and grape soda strawberry Fanta.
JDon is bringing jerk chicken gently marinated in his tears.
LegendaryOkPlayerMa is bringing a Vitamix and chicken tortilla soup without the chicken.
Dirty South is bringing towels.
Aquarius_2Pac is bringing ass whooping, grounded up glass, mace, jedi mind tricks and ….. I took the rest out.
PCG is bringing signature perfumed donk pads, oiled anal beads, vibrating ben wah balls, signed copies of moaning CDs for beginners, a tae heckard mask, and a pad lock in a sock along with a set of brass knuckles in case jigga gives her any problems…. and bootyshaped lollipops.
LuvllyONE – "I aint bringing shit but I'm drinking everybody else's liquor and I am having a good time"
Rollo is bringing the wife, the kids and 2 cases of E-40
Mz Pop Secret is bringing her black ass…. and maybe a man so she wont be accused of having a man in her room.
travlnman is bringing a bag of bullets
Bad Boy From Da South is bringing Gigi with the big ole ass.
Ja is coming to the offline to "plug QT in the ass because he knows she needs it"  Calla you gon take dat?
trinitiAKA is bringing fresh smoothies and kale chips
MzGladis is bringing UNO cards.
LANEKA is bringing some 400 pound big  booty strippers.
anthony_1 is giving out free back rubs and a taco salsa
STEELDRVNMAN is bringing……  we don't know cause he's a got damn incog.
cut_a_nikkain2006 is coming but we don't know what she is brining yet…
STILL Rotten is bringing herself…..  :/
MR_IKE_DOLLARBILL is bringing fake credit cards.
killaboy would come but he said Texas is too far.
Killabrew is driving Kaylee to the offline.
Kaylee is bringing more hoes.
Gunman1977 is bringing a pound of bomb ass weed, wraps, Top papers and some WOODEN pipes.
MAJDA is bringing an extra lamp and a television.
pink (link) revolver is coming to the offline to collect the baby's gifts.  Ebony's Wish List… but contact her first cause there are rules and shit.
More updates coming soon!
---
COMMITTEES
The Veggie Committee
MsNina, Poe, TriniAKA and KC
The Website Committee
Me
Security Committee
DJSchMoke, PrinceOfChosenThought and AmbitiousKing
The Party Planning Committee
Smootie, POCT and blazin
Decorations
MsNina
Community Outreach
DJSchMoke, Text Slayer and Moonduck
The Official Clean Up Crew
ITastelikechampagne, Brass Knuckles and Curve
The Lawn Care Committee
Bad Boy From Da South
---
CONFIRMED GUEST LIST
MsNina

QT

Calla ID

PrinceOfChosenThought

DVGreen

DJSchMoke and PCG are renting a van and Poe is riding in the back.  If anybody else is traveling from New Orleans to Houston hit us up (qqn @ Only_4_U and ms_shreveport)

msLouie

Ms Cucumber

Red Dot

Gullah Jack

Jace_J

Cappadocia

Markman

Aquarius_2Pac

PCG

blazin_exotic

phatpussc
** please contact an admin ASAP to be added to the list **
---
If you are a red hat, PM me for the codes.
QT, we are awaiting further instructions……..thannnnnnnnnnnnnnnnnksssssss!
Hiiiii Nina!!!!!!!
Hiii Blazin!!
P.S. Gullah I bet you cant take this website down!!!
---
Live from the Offline:
New Orleans